UNSW Global is seeking to appoint an In-Country Regional Manager in Vietnam (16 Dec 2017)
Industry: Higher Education
Employment type: Full-time
Experience: Mid-Senior level
Job function: Education, Marketing, Sales
Job description
The purpose of this position is to promote UNSW Global Education products and services to prospective students, their parents; education representatives, sponsors and sponsoring bodies and other stakeholders in designated markets. This position will be responsible for the achievement of overall and regional specific recruitment/sales targets for courses and programs offered by UNSW Global Education, including UNSW Foundation Studies and UNSW Institute of Languages. The position will develop and drive strategy and innovative initiatives to increase the number of quality applications and students. The position is also tasked with developing and maintaining strong relationships with stakeholders and delivering outstanding levels of customer service.
Key responsibilities include:
1. Achieve annual sales targets for UNSW Global Education products and services
2. Increase the number, quality and diversity of applicants overall
3. Develop and maintain effective relationships to ensure that clients, education representatives and business partners are aware of the full range of products and services offered by UNSW Global.
4. Develop, manage and monitor annual recruitment targets for Indonesia. .
5. Develop and manage education representative relationships with particular emphasis on setting targets; monitoring performance; attending agent events; providing training and maintaining accurate education representative information.
6. Develop effective communication channels and work closely with internal and external stakeholders
7. Develop and implement agreed sales and recruitment strategies through internal and external consultation, planning, budgeting, research and identified synergies with UNSW Global and UNSW.
8. Develop and maintain excellent customer relationships within Indonesia.
9. Increase the conversion rate from offer to enrolment
10. Develop and provide reports on the market and regional activities and performance as required.
11. Undertake and manage special projects as directed and agreed
12. Provide input to create campaign plan and sales initiatives
13. Any other commensurate duties as reasonably directed from time to time
For a full position description please visit our website https://unswglobal.unsw.edu.au/jobs/
To apply for this role send your resume and cover letter to Jobs@unswglobal.unsw.edu.au by January 07th 2018
Take Yourself Further - CPA Australia Careers (30 Sep 2017)
CPA AUSTRALIA CAREERS
SATURDAY 30 SEPTEMBER, 9.00AM – 2.00PM
THE REVERIE SAIGON, 22-36 NGUYEN HUE BLVD
.
Regional Recruitment Officer UNSW (22 May 2017)
UNSW is appointing an In-country Rep in Vietnam (or Thailand).Industry: Higher Education
Employment type: Full-time
Experience: Mid-Senior level
Job function: Education, Marketing, Sales
Job description
The successful candidate will be based in Vietnam or Thailand and be an active team member of the UNSW International, Marketing & Communications. Specific responsibilities for this role include:
Market and promote UNSW at nominated recruitment events in a professional manner and produce detailed reports within two weeks of event completion for the Regional Manager: Mekong.
Coordinate recruitment events with agents, in schools and with other stakeholders in allocated markets as directed by the Regional Manager: Mekong.
3. Work closely with the Regional Manager: Mekong to increase our presence and brand profile in targeted schools and university partners throughout in Vietnam, Thailand, Myanmar, Cambodia and Laos and building strong relationships with school counsellors and other key stakeholders and influencers to ensure information is provided to students considering study options with UNSW Sydney.
4. Support the Regional Manager; Mekong in all recruitment activities including assisting with: follow-up and data entry of leads, agent training, stakeholder management both internal (UNSW staff) and external partners.
5. Coordinate partnership development activities and secure appointments with partners for university stakeholder visits.
6. Provide the main supporting role and contact for agents. Assisting them with enquiries and providing them with support from application to enrolment. Liaise with Admissions on a regular basis to generate swift turnaround of offers and acceptances.
7. Coordinate both high level and informal recruitment focused delegations to UNSW as required.
8. Provide support for specific International Recruitment projects as required.
9. Cooperate with all health and safety policies and procedures of the university and take all reasonable care to ensure that your actions or omissions do not impact on the health and safety of yourself or others.
10. Any other duties as requested by the Regional Manager: Mekong and Senior Management Team of  International, Marketing & Communications.
Please check the ad in LinkedIn for more details.
Applications close 30 May 2017. Shortlisted candidates will be required to complete a selection criteria by 1 June 2017.
FrieslandCampina - Management Trainee Program 2017 (11 Feb 2017)
Do you dare to leap to lead in your career? Are you ready to take a chance to be a global citizen at kingdom of milk FrieslandCampina? Join now "Management Trainee Program 2017" at
http://frieslandcampina-mt.com
before Feb – 20th to make your dream comes true.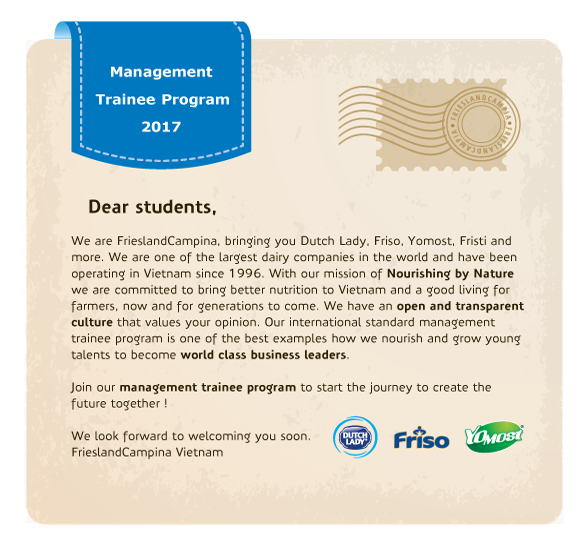 Vietnamese-speaking Research Assistant (16 Oct 2016)
[JOB OPPORTUNITY]  A position is available for a Vietnamese-speaking Research Assistant to work on a part-time casual basis on a research project about ageing and end-of-life care in the Vietnamese community in Adelaide.
About Position
Actively recruiting Vietnamese families (with one person over the age of 55) to participate in the project.
Assisting the lead researcher in the field (interpreting, note-taking and taking photographs)
Conducting, interpreting and transcribing informal semi-structured interviews about the cultural, social, religious and family influences on health and their futures in Australia.
A minimum 3 hour shift per week will be available. It is anticipated that this will increase substantially as the project develops. The position is available immediately and the project will be ongoing into 2017.
Essential criteria

Fluency in Vietnamese and English (spoken and written)
Excellent communication skills
Background in the social sciences
Capacity to conduct qualitative semi-structured interviews with a diverse range of research participants.
Previous studies in social anthropology would be an advantage.
Interested candidates should email the Project Chief Investigator Dr Tanya Zivkovic (tanya.zivkovic@adelaide.edu.au) with their CV and a brief cover letter (maximum 1 page) addressing the selection criteria by Monday 24 October 5pm.

MARKETING MANAGER - Swinburne University Rep Office (3 Oct 2016)
Title: Marketing Manager
Working location: HCMC
Level: Manager
Function: Trade Marketing
Please access the link https://hr2b.com/marketing-manager- 11952-jv.html for Job Description. Application needs to lodge online in the same link.
Application's deadline: 31 October 2016
About Swinburne University
• "Top 3%", 5 star rated university worldwide;
• Over 40,000 students across all learning streams;
• Growing reputation for academic research and research based higher education learning streams;
• A solid reputation for working with business and industry;
• An outstanding provider of international education;
• Operational in Vietnam since 1993 with an outstanding brand and active alumni.
BAT Global Graduate Program (1 Oct 2016)
BAT's Management Trainee comes back under the new brand name Global Graduate Program. Our Global Graduate Program is designed to nurture the next generation of leaders from the most talented graduates, via structured learning and development with a global standard of excellence.
What is new in this Global Graduate Program and what Global graduates will be equipped with?
• A truly fast-track program: 6 months of immersion and 12 months of intensive program
• A truly inspiring program: coached by BAT's most senior leaders and have a chance to initiate a global project
• A truly challenging program: have your KPIs and make business impact from date one
• A truly global program: 02 weeks leadership training in BAT Headquarter in London. Connected with talents around the world.
We are looking for Global Graduate candidates in: Marketing, Finance and Human Resources. Selection process
1/ CVs screening
2/ Online assessments
3/ Written cognitive assessments
4/ Initial Interview
5/ Assessment Centre
6/ Final Interview
– Essential requirements:
+ Final year university students or Career starters with less than 3 years of work experience
+ Excellent English communication and coordination skills
+ Strong analytical skills and critical thinking
+ Able to learn quickly, highly adaptable to pressure and constant changes
+ Ambitious, dynamic and open-minded
+ Keen to learn and open to challenges
Follow BAT in Vietnam Career fanpage at https://www.facebook.com/batvcareers/ to get updated information about the program
Show us what you are made of.
And let us enable you to… UNLOCK YOUR POSSIBILITIES
BAT started its operation in Vietnam in October 1994 and today is considered as one of the most successful international businesses in Vietnam. Classed as one of the top employers in Vietnam in a recent survey by AC Nielsen, BAT is recognized as providing its employees high quality training and developmental opportunities, competitive rewards, fast track careers, on-going employee engagement and entrepreneurial culture.